Sierra Engineering has demonstrated proven expertise with a wide range of analysis tools.
---
[Performance Prediction] [Combustion Stability] [Thermal Analysis] [Structural Analysis]
---
Performance prediction is typically the first aspect of characterizing an engine, and certainly the most fun.
We utilize several rocket analysis tools to help us predict performance and design engine components:


The above tools allow us to meet mission requirements, and also provide early predictions of rocket engine performance critical to your propulsion system.
Our analyses account for the following performance conditions:

Kinetic Losses
Mixing Losses
Vaporization Losses
Divergence Losses
Throat Erosion
Boundary Layer Losses
Particle Impingement (Solids/Gels)
Two-Phase Losses (Solids/Gels)


Back to Top
Prevent catastrophic failures from combustion-acoustic interactions in your rocket engine combustion chamber!
Our experienced engineers use the state-of-the-art ROCket Combustor Interactive Design (ROCCID) analysis tool to assess the stability characteristics and improve the stability margin in your rocket engine combustion chamber.

Our analyses of your rocket engine will assess:

high frequency injection and burning coupled instabilities
low frequency chug margin




During early design of your rocket engine, our engineers can provide a support program to:

assess stability issues
recommend corrective design modifications to enhance stability margins
Help you develop an industry-standard stability demonstration test program


Our engineers can help you design, tune and test design modifications to improve your stability:

Thrust chamber baffles
Helmholtz resonators
quarter wave cavities
injector de-tuning


Visit our RocketWebSM site to check out some of our more popular analytical tools used in the propulsion industry for assessment of combustion stability.
Back to Top
Sierra Engineering can support your full range of heat transfer design and analysis needs
Sierra Analysts have many years of experience predicting the extreme environments of liquid rocket engine combustors and other related components. Many of Sierra's predictions have been followed with relevant testing which allowed correlation of the tools and development of improved predictive algorithms. Sierra understands how to analyze and design rocket engine combustors so that they meet life requirements.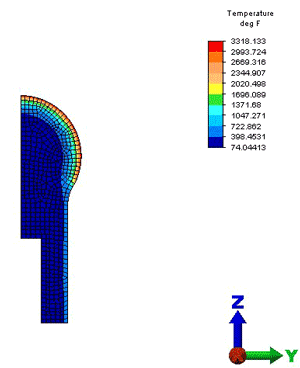 Sierra has developed analytical models based on:
test data,
accepted analysis techniques, and
2-D and 3-D steady-state and transient finite element analysis tools.
Sierra has demonstrated experience in the application of single and two phase cooling flows to:
analyze and design heat exchangers,
analyze the performance of solid state laser cooling systems,
analyze and design test facility cooling systems, and
analyze and design liquid rocket engine thrust chamber cooling systems.
Sierra's experience in these areas can reduce the development risk of your program.
Back to Top
Thermo-Structural Analysis
Extreme transient environments and plastic deformation make accurate structural analysis of rocket engines very difficult. Sierra has demonstrated the ability to accurately predict structural integrity for these demanding thermo-structural problems. Below are some examples of injector, chamber, and pressure vessel thermo-structural analyses.
Back to Top